Tall Peppermint Mocha, with Soy, Please?
Oh, and extra whip, too? :D I don't know where the idea for this came from... Maybe the Peppermint Mocha coffee I got today? This is one of those ideas that just popped in my head and I had to get it out... :P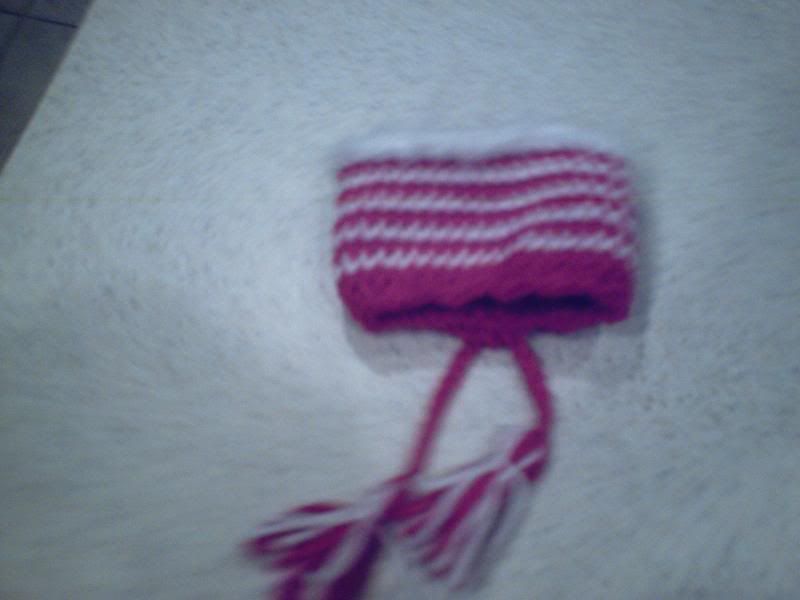 Sorry the pic is so blurry...
I used a G hook and Red Heart WW yarn for this. Caron Bliss for the 'whip cream'.... or you could use fun fur, too.. Small amounts of each. I hook for the "whip" ;P
With red, ch 38 and join to make a 'ring', being careful not to twist the chain.
Round 1: Ch 1, sc in each sc around, picking up white in last loop. Don't fasten off each time. (I just left the red, and then picked it back up in the following round...)
Rnd 2: With white, repeat round one.
Repeat round one, switching colors for a total of nine rows. Fasten off red at end of row 9.
"Whip Cream"
With I hook, make a sl st and attach caron bliss in beginning stitch, front loop only all around: Ch 1, sc in each sc around. Join. Fasten off.
With red, and bottom of cozy facing you, attach w/ G hook in first stitch (you will be working in free loops of bottom of round one).
Ch 1, and sc in same stitch. *Ch 1, and skip next loop. Sc in next loop. Repeat from * around. Join. Fasten off.
With red and G hook, ch 52, (leaving long lengths to tie on tassels later.) Fasten off.
Make tassels: With red and white held together, I wrapped around four fingers five times. Cut. Cut a long length of red to tie, pull loop through top of tassel and make a knot. Cut ends of loops. Cut all ends even then tie(with long length of tie, tie a knot with one of the free ends of the ties) to the ends of ties. Then with white, I made a knot to make the tassel about a half inch from the top of the tassel. Make one on each end. Be sure to pull the ties through the loops before you make the tassels on both ends, or you won't be able to get it through the loops...
I hope that makes sense. I have only made this one, so far. And it hasn't been tested.